To continue with the theme of unhealthiness, I decided to post another article featuring a scrumptious, EASY dessert. This isn't as "lazy" as my previous post about the Lazy Cookie Cake Cookie but it's pretty darn close. Ingredients are minimal but it requires about 8 minutes of prep time. Pretty terrible right?
1 Box Chocolate Cake Mix
Ingredients needed to make cake (usually eggs, oil and water)
2 (4 oz.)packages of Instant Oreo pudding
4 cups milk (2% or higher)
Crushed Oreo Cookies (optional)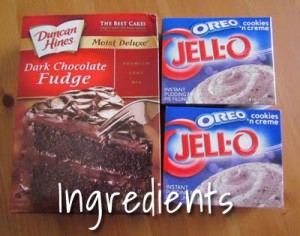 I will say, I had a little hiccup with trying to find the Oreo Pudding Mix. I went to both Kroger and Publix and one of them did not have it. Unfortunately, I can't seem to remember which one did.
Make cake mix according to directions on the box and bake in a well-greased 9×13 pan (I used nonstick spray)
Just before cake is done, start making the pudding –
In a medium bowl, add milk to pudding mixture and continue to whisk until most of the lumps are removed.
Let pudding mixture sit for about 2 minutes. You want it to thicken slightly so it isn't overly runny but not fully thickened into pudding.
Once your cake is finished baking and still warm, poke holes all over cake. I used the end of a wooden spoon.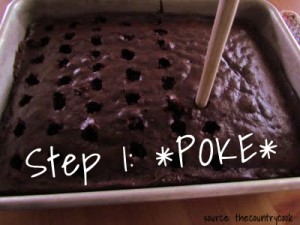 Once your holes are made, pour your pudding mixture over the warm cake. Specifically targeting the holes you just made.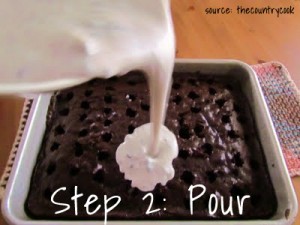 Spread the pudding mixture evenly over your cake, pushing down slightly so to get the mixture into the holes.
Once complete, put the cake in the fridge for about an hour. When you're ready to serve, top the cake with crushed oreos and enjoy!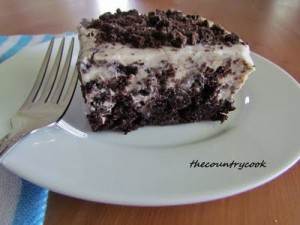 Store in your fridge and enjoy the leftovers! … while they last. 😉
This was a simple, yet delicious dessert that I made for my husband and best friend one evening and they LOVED it! We practically ate the entire cake within 2 days.
ENJOY!