Are you a Lazy Mom looking for a quick dessert for your family?
Are you a Lazy Mom looking for a quick dessert for yourself?
Are you just plain Lazy?
Well, boy are you in for a treat!!
I have come across this little gem of a recipe and immediately knew I had to try it. I mean seriously, who doesn't love hot, fresh, homemade, cookies out of the oven? Or what about a cookie cake from the Great American Cookie Company? What if those two desserts met, courted, mated and had a baby? Well, I ate this baby and am now sharing the glorious recipe with you.
This recipe is so easy and requires little to no effort.


Lazy Cookie Cake Cookies:
1 box yellow or white cake mix
2 eggs beaten
5 T melted butter
2 C mini chocolate chips
Mix together, refrain from eating it raw, put in a greased 9×13 pan and bake at 350 for 20 min!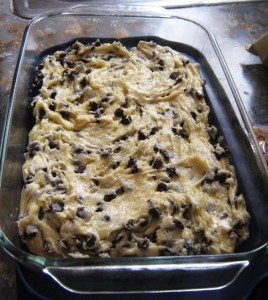 You can get all these ingredients at your local Dollar General for around $5.
Seriously, go home immediately and make this. Like, leave work. Now. Bring in the left-overs to your boss the next day and he/she will understand.
Happy Baking!