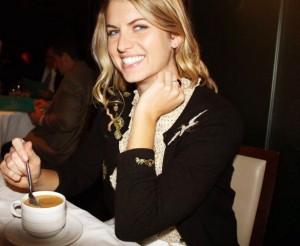 Guest Post by Lindsey Freeman
Everyone has those moments where they feel like they can't put an outfit together or nothing they put on looks right.  I even know quite a few ladies who despise shopping. (More than you know)
I, on the other hand, am in a committed relationship with my shopping.  It makes me feel happy, excited, sexy… everything you could ever want in a man relationship.
So, this past weekend a girl-friend of mine asked me to assist her with a closet make-over.  My job was to help her clean out her current wardrobe and go shopping for fresh and new outfits.  Shopping without spending my own money?? I was elated.
The days prior to our shopping extravaganza, I asked her a few questions. Knowing what parts of her body she wanted to cover, what classic pieces she might already have stashed away and what kind of jewelry pieces were her style.  Once I had a general idea of what kind of outfits she was looking for, the rest was easy.
1. Body type:  I think the key is to know your body type and what looks good on you. For example, I am well aware spaghetti strap dresses or tops make me look like a linebacker; therefore, I avoid those types of styles.  What looks good on you?  According to the magazines you are Petite, Boyish, Curvy or Athletic…. I don't necessarily believe we are all categorized into just these 4 body types. So I encourage you to try different styles on, styles that accentuate your good assets and find ways to hide your imperfections.
2. Classic Pieces: When starting out renovating your wardrobe, shopping can become a bit overwhelming.  With so many different trends and styles out there, how do you even know where to begin?  I always suggest everyone has at least the following classic pieces.  From there, you can always accessorize with a bold piece of jewelry, wrap a cute sweater over or buckle a cute belt.
The perfect pair of jeans
Bold color cami/tank top
Flattering shorts
Great black heels
Business appropriate skirt
White blouse
Sundress
Cute sandals (not your pool flip flops)
3. Accessorize: I personally believe this is the "bread and butter" of the outfit. As stated in # 2 you can change up any outfit with a simple bold statement necklace or hot pink skinny belt. This is the part of your wardrobe that is easy to change out and reinvent.
4. Alterations & Spanx: Sometimes the store just doesn't offer that perfect fit. And that is ok. I highly recommend everyone invest in having their clothes taken to a tailor to have them altered to fit your body perfectly. And there is absolutely nothing wrong with owning a perfect pair of Spanx. (www.spanx.com) You will not only look better, but you will feel better when the clothes you are wearing looks like it was made for you.
5. Smile: Confidence and a smile is by far the best thing you can wear!
I hope this helps the apprehensive shoppers out there!