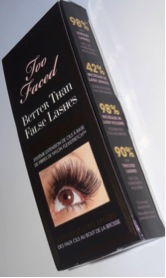 I dub myself some what of an expert when it comes to mascara. You will rarely ever see me with out it on. I just have a love obsession with eyelashes.
This past summer I went the expensive route and tried the professional eyelash extensions. Two and a half hours of a professional eyelash-er gluing individual lashes to your natural lashes… the results were somewhat shocking, Kim Kardashian like, but I adored them. Unfortunately, like anything false, they fell off and I was back to my natural lash line.
Dying for my next "lash fix" I wanted to find something that wouldn't break the bank.
Looking through the many rows of mascara Sephora had to offer, a special little Too Faced box caught my eye… "Better than false lashes" it said.

Directions:
Step 1 – "Prime" Apply primer


Step 2 – "Build" Apply the nylons
Step 3 – "Seal" Apply 2nd layer of primer
My first attempt at the new mascara was rather messy and difficult. I was pretty surprised to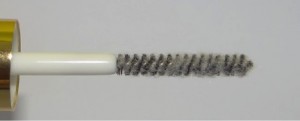 discover the second tube was not the typical white and creamy, but instead it was dry with white nylon fibers. I got quite a bit of the fibers in my eye and it made somewhat of a mess around my eyes. Unfortunately, I do not have photos of my first few attempts to show you.
Third (or fourth) attempt… I was not going to let this mascara get the best of me. With a little bit of time and patience I sat down in front of my large mirror and delicately started to apply the "Primer" I started from root to lash with one or two coats. From there I took the nylon tube and applied the fibers ONLY from the mid-lash and up. (I discovered going from base to lash with the nylon just made a mess and gets in your eyes.) Last step I took the primer tube and applied several layers of mascara until I got the desired volume and length. I even tested out other mascaras along with them and the results were very positive. The trick is not to let your lashes dry before you apply another layer. After the lashes dry adding any more mascara just looks clumpy and spider like.
Results:
Left side is the Too Faced Mascara
Right side is my natural lash
I did not apply to my bottom lashes; I used my regular mascara for the bottom.
Removal:
Since this mascara is thick with nylon fibers it is a little more difficult to remove. I have read that baby oil works best.
Can be found online here:
There are a lot of mixed reviews out there. I suggest you play around with it until you figure out what works best for your type of lashes.
http://rakhshanda-chamberofbeauty.blogspot.com/2012/04/too-faced-better-than-false-lashes.html
http://www.pinksith.com/2012/04/too-faced-better-than-false-lashes.html