If you are looking for some healthy meal options, here is a good'n! Not to mention, very little prep time as it cooks while you're at work. That's my favorite part…besides eating it. 😉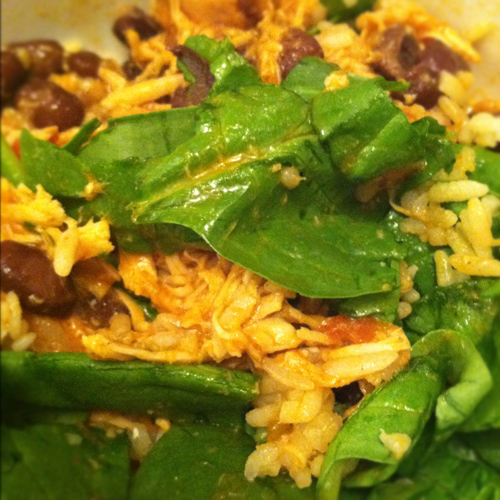 Slow Cooker Chicken Burritos
3-4 boneless skinless chicken breasts, trimmed of fat
1 (8oz) can tomato sauce (no sugar added)
½ cup salsa (no sugar added)
1 package of Low Sodium Taco Seasoning or 2-3 TBSP Homemade Taco Seasoning
1 tsp chili powder
1 tsp cumin
2 cloves minced garlic
Place chicken in slow cooker. Pour remaining ingredients on top of chicken. Cover and cook on low for 6 hours or until chicken is cooked through.
Serve over lettuce for a Tex-Mex inspired salad using the extra juice as a dressing or creating your own using some olive oil, lemon/lime juice, and taco seasoning.
Burrito or Salad Topping Suggestions: Black Beans (rinsed and drained), tomatoes, lettuce, black olives, salsa, avocado.

*Side note: as you can see, we added Brown Rice as our carb. Since starting my new diet, I've had issues with feeling "full" after dinner, as I'm accustomed to eating some sort of dessert (cookies) following dinner. I thought rice would be a good 'filler' to help with my feeling of needing an additional meal. If you get brown rice for this meal, make sure it isn't the "fast cooking" kind. Look for 100% Whole Grain Rice (Brown rice, Wild rice) or Quinoa.*