Maxi dresses are a necessity in a girls wardrobe. They can be dressed up, dressed down, and they are so comfortable!
I went on a birthday shopping spree and visited a local boutique in our town. They are known for their higher priced items, but they have such cute clothing and accessories. I was rummaging through the racks and I found this GORGEOUS bright blue ruffled maxi dress with a chiffon type bottom.
Now, I am about 5'8 so maxi dresses are difficult for me to find because most hang down to about the ankle length on me, which I can't stand. Luckily though, this one was the PERFECT length!
Forked out $79.00 for it and immediately left happy with my purchase.
DUN DUN DUN….
The other day I was shopping on TOBI.COM (which is awesome by the way) and happened to come across the SAME exact dress on sale for………….. $29.00. What the heck?!
So, I plan on returning my dress and purchasing this baby immediately.
 Click the image below to purchase.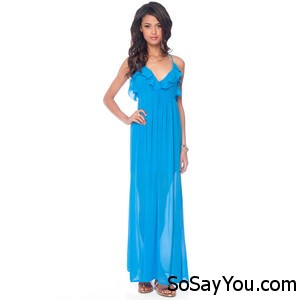 Stay tuned as we find more awesome deals and steals for you guys!! Check out some of our other "looks for less" finds below!
and more.