My personal pinterest page (say that 10 times real fast) is filled with shoes. Shoes that are not only fabulous, but fabulously out out of my price range. I have made it my life's mission to duplicate a few pairs that I adore, for an adorable price.
One of these said pairs of pumps, is the Givenchy Ankle Strap Sandal. Charlize Theron looked fab in a pair at the Golden Globes and Kim K rocked a black pair during a casual outing on the town.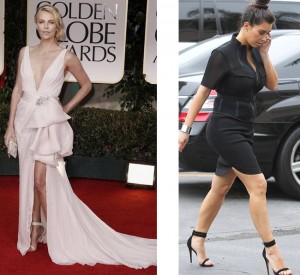 Unfortunately, these shoes will cost you a pretty penny. Almost 50,000 pretty pennies, to be exact. DSW is selling these pretty pumps at $499.95. If you're ballin' or you have a good sugar daddy, click the picture below to order.
If you're like me and can't justify dropping $500 (today), give L'Atelier London Kayla Sandal a try for $79.95