This weekend, my husband and I set out to revamp some old, Target side tables to help make our living room more enjoyable….for me.
But obviously, before we could get started, we turned this into a competition. We decided to paint mine more of a distressed look vs. his all white/crisp paint job and we would have our friends and family judge it.
We began by lightly sanding the tables, all over, using a 100 / 150 grit sandpaper. We purchased BEHR Paint & Primer in one (because we're lazy), to replicate the Benjamin Moore Paint color HC-84, Elmira White. We knew we wanted something lighter in the room, as the tables were originally a dark brown. *sorry that I don't have any before pictures. Did I already say I was lazy?*
Now, here comes the EASY-BUTTON part. Sticking with the lazy theme I have going (with my life), I casually painted the side table. As in, I wasn't worried if I covered the entire piece. I frivolously painted one coat and was done in less than an hour.
Now comes the judging –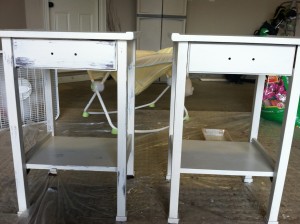 I sent this to Brandi and my Mother to see which one they favored. After a split decision by the judges, your girl brought home the GOLD.
Which one would you pick? Do you have anything in your house that could use a makeover? Think about re-painting an old piece before you go and spend $$ on something new.