Pinterest has had me drooling over many different types of wreaths. I just couldn't decide which one I liked best! I do, however, love the look of burlap it's 'natural' look.
It took  a previous failed project to kick my butt in gear and try my hand at the easiest project imaginable.
One day I went to Hobby Lobby to take advantage of, what seemed like, the entire store being 50% off – gotta love Hobby Lobby. Wood – 50% off; Iron – 50% off; Picture Frames – 50% off…  I snagged TOO much to list here, but one of those purchases were some cute wood letters. I had big plans to wraps the letters in jute and house them on a shelf in my living room. Problem being, the wood letters were not 'box letter' shaped and my shot at domestication failed miserably in this project.
Fast forward a week later, I finally decide to try my hand at a wreath. I go back to Hobby Lobby – you'd think they would greet me at the door by name by now –  and grab a cheap styrofoam wreath, a couple small bottles of Krylon Spray Paint and a wooden letter "G."
Once home, I take the "G" outside and spray paint it Antique Bronze. Once dry, I go over it with Gold Leaf, sparingly.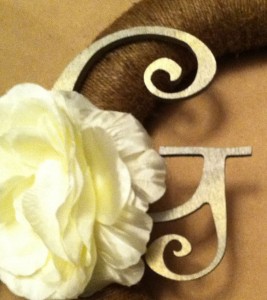 Sorry for the poor color, but you can somewhat see the pop of gold I used.
Instead of literally watching paint dry, I start my wrapping. Heads up, this is tedious.
You want to take your glue gun and glue your starting piece to what will be the back of your wreath.  Once that is set, start your mundane wrapping job till you reach the end. I recommend turning on the TV to one of your favorite shows at this point.
Once complete, cut your jute and glue the end to the back.
Voila!
You now have a wreath made of jute!
*Personally, I think it would look best to wrap your wreath twice, but I got tired of wrapping. What you see in the picture above is a good once-over.*
At this point, go grab your wooden letter. It should be dry by now. Hot glue it onto your wreath, however you'd like. In my case, I bought two flowers (hair pieces) from – you guessed it – Hobby Lobby. I pinned them into the styrofoam rather than using my hot glue gun. This allows me to change the flowers to a more Christmas theme once December hits.
I hope this helps in your next Do It Yourself project!