As part three of my wedding on a budget article, I wanted to share with you guys the centerpieces I did for my wedding coming up in October. I've already shown you how to DIY your wedding bouquets for your bridesmaids, so I wanted to continue to show you how you can save a ton of money by doing your wedding centerpieces yourself as well.
I chose pale pink peonies, cream hydrangeas and lots of baby's breath to coordinate with my bouquets. These were very easy to put together but I also wanted to stay with a vintage and romantic feel so I gathered several old, blue mason jars and glass vases to put the flowers in. The inspiration came from Pinterest (shocker) when I found several different pictures and combined them into two place settings.
We are using both round and rectangle tables at our reception so for each round table, I chose one flower centerpiece on top of a wooden slice, with votive candles around it all under a thick piece of burlap.
Materials needed:
Blue mason jars
Lace
Glass vases
Ribbon
Burlap
Flowers
Wood slices (for the rustic look)
Here are a few inspirational pictures I found to design the centerpieces:
I gathered the material and went to work. These were very simple to make. I just used 3 hydrangeas and filled all the empty space with the baby's breath.
It doesn't have to be very uniform so that made it a lot easier and quicker to make. The hydrangeas were fake so that I could make them ahead of time, but the baby's breath was real.
I haven't added the wood slices to my centerpieces yet, but I did mock what the table will look like, give or take a few things but you get the point.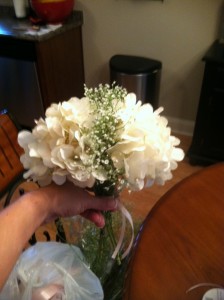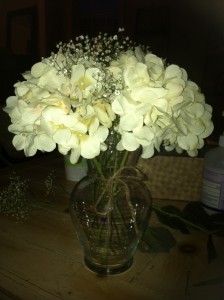 And then we added the same centerpiece flowers to the blue mason jars and added lace, burlap and a ruffled flower to give it a romantic look. Add some votive candles around it and voila! Easy peasy!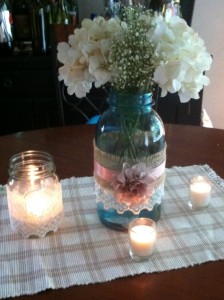 I hope that you have enjoyed my little projects and that it gives you a little more inspiration to create your own centerpieces. Remember to keep coming back to check my other DIY projects!