Recently I *pinned* something to my *board* that I wanted to do in the hubster and I's bathroom.
The motivation behind this small renovation was, not only is it cute, our towel rack would NOT stay up. I even had the contractor come out and put it back up for us… but alas, down she went.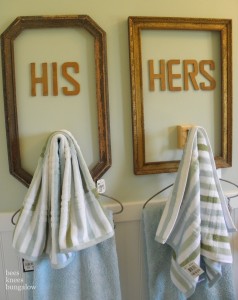 This predicament left us with throwing towels over the shower, over the door, wherever they would fit… which turned into stinky towels – you know what I'm talking about – which then turned into washing towels twice a week.


Never fun.So, off to Hobby Lobby I went after seeing their Sales for this specific week were to include custom frames, metal, iron hooks ect…I found two wood, stand alone frames – 50% off – and "His" and "Hers" hooks – 50% off.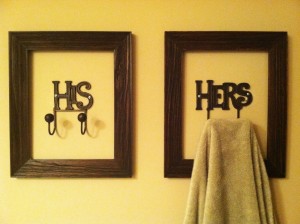 I realize this differs from the original picture, but isn't that what Pinterest is all about? To Peek your Interest and get those creative juices flowing? —> btw, I just totally made that up, but I think Pinterest should just roll with that…
I loved how this turned out and the wood and hooks go GREAT with the knobs and fixtures we currently have in our bathroom.
I would also like to add that I DO see the silver screws and yes, they do drive me bonkers. Maybe I can take a little paint to them in the near future.