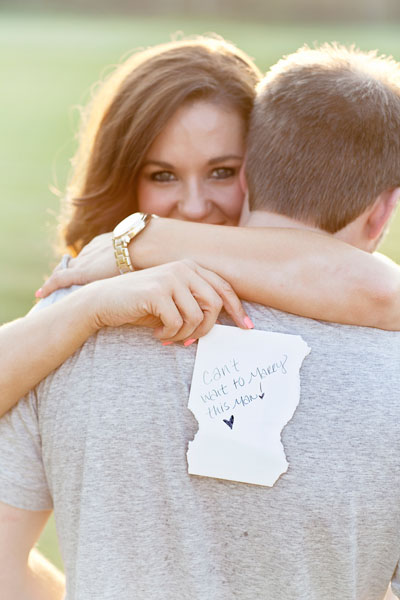 We all dream of the day that our prince charming swoops in on his white horse and asks us to marry him. So when that perfect time finally comes and he sweeps you off your feet with the perfect proposal, you cannot wait to get the wedding planning started, right?!?
Don't get me wrong, I have loved every minute of being engaged to my fiance. We have been so blessed to have friends and family help us with every aspect of the wedding planning, but my goodness, there has been NO time to relax and just enjoy this time together. So I've put together just a few things that I misconstrued when I started thinking about what was going to happen next.
#1: You don't get to relax at all
From the time I shouted the words, YES!!!, it has been a non stop timeline of getting things in order. Budgets, ideas, venues, guest lists, decisions, decisions, and MORE decisions! It seems like the decisions you have to make are as long as the yellow brick road. Brides-to-be, if you are not a planner (like me) and you lack the qualities of organization, find someone who is and hire them immediately. It will save you so much time and so little headache.
#2: It never really sinks in ♥
Now this could just be me personally, but I am getting married in less than 2 months and it has yet to sink in that I am about to become somebody's WIFE! *Insert panic scream here.* I have always imagined what kind of wife I would be and what my life would become, but it is still so surreal that I am about to marry my best friend and spend the rest of my life with this person. EEK! Even after all the planning, dress fittings, bridesmaids talk, craft nights, location visits, and tux rentals, I still do NOT feel like I am about to get married.
Also, and this is just an added bonus, but you will catch yourself on many occasions glancing down at your hand and staring at that gorgeous bling on your finger. You should be very proud of that ring and the symbolization that is represents.
#3: People will ask you your plans before you've had time to think
All of your friends and family are going to be so excited for you that they are going to automatically start planning and  asking you a million questions pertaining to the wedding.
Don't stress and don't think you have to have all the answers.  Take one day and step at a time. They care about you, want to help you and are so overly excited for this day to come too,  that they may jump the guns early on. It's not a bad thing, I am just saying to be prepared. 🙂
#4: Prepare to go over budget
The first thing all planners and fellow brides all say the same thing. MAKE A BUDGET AND STICK TO IT. Well that is much easier said than done. Go ahead and prepare to go over by 10%. You just will. We did not get the fortune of my parents paying for our wedding. It just wasn't feasible and I came to terms with it, so we had to come up with a reasonable budget that wouldn't break our bank accounts. Every little item adds up quicker than you can imagine. The centerpieces that you thought you could save money on by DIY'ing it, they add up. Favors for your guest (that most guest could care less about) add up.
My advice for brides on a budget is to pick the top 3 MOST important aspects of what you want in your wedding and splurge on those things. The dress, photography, food, and music… those are rather important details that you want remembered by your guest. Make a detailed list of your envision and STICK with it. I have learned from my personal indecisiveness on this issue. Make a list and stick with it.
#5: It's not going to be a perfect fairytale (and that is OK)
Now get what I am saying. You are about to marry the one person you could (hopefully) not live without. You are about to have all your dreams come true. You have dreamed of the perfect wedding, the perfect dress, the perfect hair, the perfect makeup, the perfect ceremony, etc, etc… But let me tell you that chances are, the day will have its flaws and mess ups and you know what, that's OK!
If your hair isn't what you envisioned, its OK. If the centerpieces aren't setup on the table just right, it's OK. If someone forgets to bring those adorable little frames that you spent countless hours on, its OK. Because brides seem to forget the meaning behind this day. Once you lock eyes with the person you are about to vow your life to, everything else will not matter. Remember this, if nothing else. This is the one day you have to dedicate your life to the person of your dreams. The person who is going to stick by your side for richer or poorer, through sickness and in health, all the days of your life.
I hope that you brides-to-be relax, let it sink in that you are about to marry your one and only and that this is to be a day of Happiness. I will leave you with this:
A common, but favorite scripture that I love reading about marriage and love.
 Corinthians 13:4-8: Love is patient, love is kind. It does not envy, it does not boast, it is not proud. It does not dishonor others, it is not self-seeking, it is not easily angered, it keeps no record of wrongs. Love does not delight in evil but rejoices with the truth. It always protects, always trusts, always hopes, always perseveres.
 Love never fails.