So, I am always looking for new products to try on my skin. I have very uneven skin tones, dry spots and discoloration. I do not like the feel and thickness of liquid foundations, but I do need something that is going to cover well. I usually stick to powder foundations that leave my skin feeling very lightweight.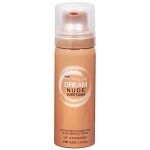 My roomie bought this product a few days ago and I tried it on and loved it. She uses two different shades, one light and one darker and combines the two, but I recently decided to try it for myself. The dream airfoam foundation from Maybelline is lightweight, airy, and seems to cover pretty well.
I took a before/after picture so you can see the difference in the spottiness of before.
You can see that it did even out my skintone a bit and it gave me a slight glow look. I really like it so far! If your interested in trying it out, you can purchase it at your local beauty or cosmetic stores, or just by clicking here.
XOXO