*Breathe*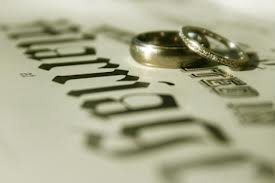 All of the stress and planning of a wedding is over! You did it! Congratulations! You no longer have to decide what napkins to use, what font to use, who will sit where or any other details that you probably didn't even notice on your big day………. But you are not done yet.
There are some important changes that you will need to do as quickly as possible if you decided to take your new hubbys last name.
First things first! MAKE SURE you get the original copy of your marriage license to the Courthouse. They normally expire within 30 days of your marriage so put that #1 on your list. You will NOT be able to change your SS card until your marriage license is filed.
A friend made me a list to follow in order to change my last name after I got married. This is a bit of a  process but with a little help and organization, it doesn't have to be overwhelming.
Here is a list  starting with the MOST important documents you will need to make sure you change.
LEGAL DOCUMENTS
Social Security Card (You can print off a form online from your local SS office or go in person)
Passport
Driver's License
Bank information (including credit cards, checks, debit cards, etc)
Mortgage Loans
Student Loans( if applicable)
Car title
Any other type of loan you may have in your name
WORK RELATED
Payroll (make sure you get in touch with your HR person in charge to change W-2 forms for taxes) *VERY important*
Health Insurance (including dental, vision, etc)
Work Email
Business cards, etc
PERSONAL
 All social media outlets that you are associated with (If you were like me, that will be your FIRST change)
Gym memberships
Cell phone carrier
Utilities, cable, internet
Below are some helpful links you can use to help better assist in some of the more confusing documents.
There ya go! Now that you have everything covered, you may relax and enjoy being a NEWLYWED!!
Congratulations again and may you live a happily married life together!