Happy Monday lovelies!
So I was browsing through Pinterest Friday afternoon as I do every other day (for work material) *wink* and I came across this gorgeous Kate Spade "Mrs" necklace  from the wedding belles collection and OMG, I fell in love. This little necklace is the PERFECT gift for the bride-to-be to wear on her wedding day.
So after drooling over this beauty for a few minutes, I also found that the collection has so many awesome bridal accessories for the big day or following up to it. Every girl needs to have a bridal emergency kit the day of, right? Well you can put all your makeup goodies to freshen up in this small henrietta bag. Adorable right?! (Click below to purchase!)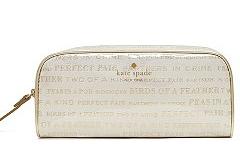 Are you convinced yet?! Well if that wasn't enough, I found a cute "MRS" Passport holder that you could use on your honeymoon! You want need this right?!!?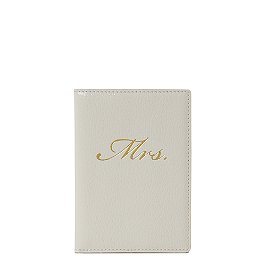 In all seriousness though ladies, these are such cute gifts for the bride (and bridesmaids) and quite frankly, a necessity! You can see more of these bridal beauties by clicking here.