Grilled Balsamic-Garlic Crusted Pork Tenderloin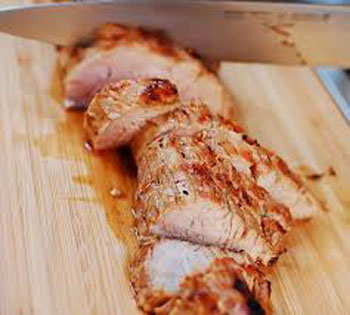 Pair this scrumptious piece of meat with a bottle of Pinot Noir La Crema (Sonoma Coast).
(La Crema offers aromas of lush cherry and red plum, with subtle hints of black tea and cola.)
Recipe
Ingredients:
4-5 garlic cloves, finely minced or crushed
2 tablespoons balsamic vinegar
2 1/2 teaspoons coarse salt
1/2 teaspoon freshly ground pepper
2 tablespoons olive oil
2 pork tenderloins (about 1¼ pounds each)
2 tablespoons canola oil (if preparing in oven)
Directions:
Stir together garlic, balsamic vinegar, salt, pepper, and olive oil in a small bowl. Rub the paste all over pork. If you like or have the time, marinate overnight for a deeper intensity of flavor.
Grill preparation:
Sear the tenderloins on all sides, then grill for about 20-30 minutes, rotating every 10 minutes, until the internal temperature is 160 degrees. Try to let it rest before slicing.
Oven preparation:
Preheat oven to 400 degrees.
Heat canola oil in a large, heavy saute pan over medium-high heat. Working in batches if necessary, add pork, and brown all over, about 4 minutes.
Transfer pan to oven. Roast pork, turning occasionally, until the internal temperature is 160 degrees, about 20 minutes. Transfer pork to a cutting board, and try to let it rest 10 minutes before slicing.
Editors note: This meal is so tenderly delicious and if made right, just falls apart on your fork. You can also pair it with baked, lemon squeezed asparagus and you have got yourself a delicious and healthy meal!