The FALL season is amongst us and with the cool, airy weather comes lots of yummy, warm soups! If you are looking for a healthier version of chili, check out this recipe for chicken taco chili–skinny girl style.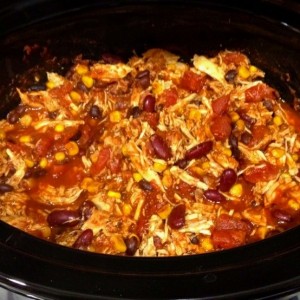 SUPER easy to make and you can either throw it in the crock pot before work and let it simmer all day, OR go to your local grocery store and grab a hot, delicious rotisserie from your bakery. EASY PEASY!
Ingredients you will need:
3 frozen chicken breast (or a hot rotisserie, shredded)
1 can of black negro beans ( I like organic)
1 can of sweet corn (I use Mexican corn for more flavor)
1 can of diced tomatoes (no sugar added)
1 can of kidney beans
1 can of tomato sauce
3 tablespoons of cream cheese (for a creamier sauce)
1 packet of taco seasoning (low sodium)
Each serving is approximately 200 calories. 🙂


***If you opt for the frozen chicken, place in crock pot with other ingredients and place on low for 6-8 hours.
***If you opt for a ready-to-eat rotisserie, shred it up, mix well and you are ready to chow.
♥ ♥ ♥ ♥ ♥ ♥
Side note: I made this for my roomies last night and they loved it. They even went back for seconds!  We added Frito lay corn chips to the bottom of the bowl and put the soup on over it and topped with shredded cheese. DELISH!
ENJOY!
For more recipes like this, click the badge below!