To see or not to see: It has been an ongoing debate of whether or not to see your groom before your ceremony. Some say it's bad luck, some say it's non-traditional and some say, why not?  Now, I was very adamant about not seeing each other before our wedding. I had always dreamed about the look on my grooms face the moment he saw me standing at the end of the isle. I wanted it to be magical just like all the movies I had seen where the first look took his breath away. Well, for lighting purposes, we opted to see each other before and it ended up being the best decision (other than saying yes) that I had made.
Now that I am married (as of October 20th,) I feel that I can shed some light on this issue on some of the PRO's of letting your husband-to-be see your beautiful self before your wedding begins.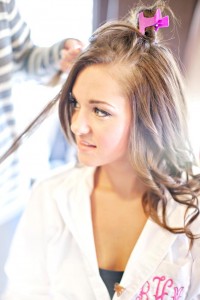 Reason #1: You're going to be busy

Every post bride tells you how busy your going to be on this day and how you will likely not remember much of your wedding day anyways, right? Well, that is totally true. You and your groom will most likely not get much QT in during your own wedding. You will be busy greeting people, following your wedding coordinators orders, visiting with your third cousins that you had to invite from out of town, or reminiscing with Aunt Ida on how you've grown up so fast to really even get to spend any time with your new hubby.

Reason #2: The jittery butterflies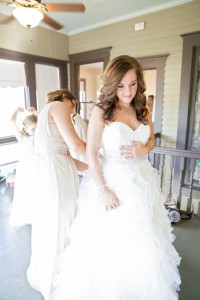 Not sure about other brides, but I was pretty calm and collective the whole morning/afternoon of getting ready with my bridesmaids. Mimosas and music were involved the whole day so I will contribute that as a factor of my mellowing mood. BUT, as the day proceeded and the time got closer, my stomach started to feel a bit knotty. The anticipation was starting to flare as I prepared to see my groom for our "first look." It was amazing. As soon as I saw him, alone, all of the butterflies fluttered away and it was one of the best moments of the day.
After that part was over, I was READY TO DO THIS!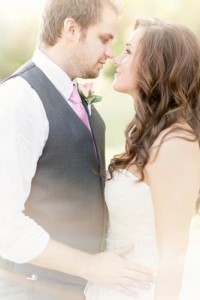 Reason #3: Capturing the moments

Seeing each other before the chaos starts allows you to get that special "you and him" time alone, just the two of you (and your photographers) to reflect on what is about to happen. That time is truly precious, trust me!
Also, you get to have pictures that capture the moments that you are going to want to treasure (and frame) of just the two of you. You won't get those pictures after the ceremony, I promise you that.
Reason #4: Pictures take forever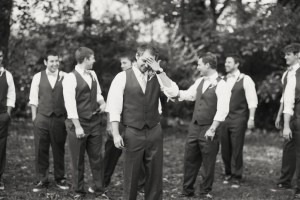 We had 21 people in our wedding party so when it came to getting the bridesmaids out from in front of the mirror, prying the bottles from the groomsmen, getting grandma to stand for 45 minutes and trying to get the kiddos to focus whatsoever, it was a really long process.
If you opt to take pictures afterwards, that leaves your guest waiting on you, you and your party not being able to eat for two hours, and it cuts 1-2 hours off your reception, which is by far the best part! It makes so much sense to go ahead and get your pictures out of the way so that when the ceremony is over, you get to party.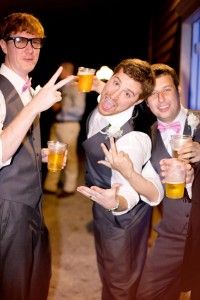 Reason # 5: Your wedding party wants to….. PARTY!
Not only for yourself and your guests, but for your wedding party. They are the ones that have sacrificed themselves for an entire day for you so give the respect of freeing them up as quickly as possible so that they can enjoy themselves after having to be poised and posed all day long.
Reason #6. You will still take his breath away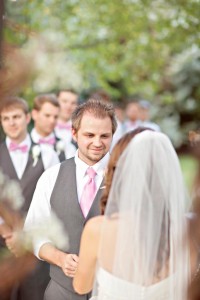 For this reason alone, I wanted to wait to see each other. As I mentioned above, I wanted him to be speechless (and maybe shed a few tears) when I came around that corner into the ceremony, and I wanted everyone else to see his facial expression as well, I'm not gonna lie. 🙂 But even seeing each other for our first look, and our pictures with the wedding party, it still took his breath away. I locked eyes with him as I walked down the isle and tears were still shed and his facial reaction was just what I hoped it would be.
The decision is ultimately up to you and what you really have your heart set on, but from my experience of all the chaos that goes into your wedding day, you will be so happy (and relieved) if you decide to see each other before the ceremony. I promise you that you will not regret it.
xoxo
Photography credits: www.glassjarphotography.com