PINTEREST!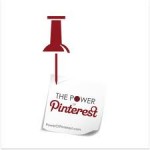 What did the world ever do before Pinterest came about? Come up with ideas on our own? LAME!
The founders of Pinterest are pure geniuses to come up with a place to store ideas, recipes, interests and everything else in this world that we find so addicting to do!  Why couldn't I have thought of this?!!
What is Pinterest exactly? Pinterest is an online, virtual place to store all of your likes, your interests, your styles, your music, clothing, decor, quotes, fitness, wedding ideas, cooking, and pretty much anything else you can think of on categorized boards! You can also share your inspirations with friends, search to find other ideas, and it stores everything that you pin in one place.
Facts about Pinterest:
It's AWESOME! (By far the most accurate fact out there! )
Pinterest recently hit 10 million unique monthly views quicker than any other standalone site in the U.S history!
Women make up more than half of Pinterest users.
Did I mention that  it is AWESOME? Ok, just checking!
I mean, what did brides to be do before this wonderful concoction of storing  ideas on boards? I am so happy that my fiance waited until after Pinterest went world wide to propose because I had my entire wedding planned 5 months before he even asked me. (Don't judge me ladies, I know you all have a " my dream wedding…. to come) board!I've seen em!
I have never been one to have a creative bone in my body, much less try to actually make something and call it a craft,  but since Pinterest, I feel like I could open up my own shop!
Thanks to Pinterest tutorials, I have learned how to distress EVERYTHING! I love turning something ordinary  into a antique, old look!  After reading an article posted in the DIY section of Pinterest, I decided to try and create the old stained look of distressed cabinets. I think they turned out pretty darn well if you ask me!
BEFORE: Just plain ole Jane white cabinets.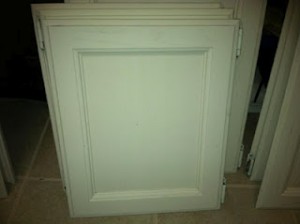 AFTER: Totally transformed the look and the feel!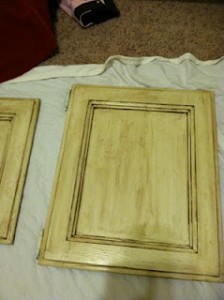 I was also brave enough to try and DIY my wedding bouquets for myself and my bridesmaids! I would have never even thought to do this on my own if not for all the wedding bouquets I pinned on my wedding board.
What do you guys think?? For a tutorial on how to make these bouquets, click here.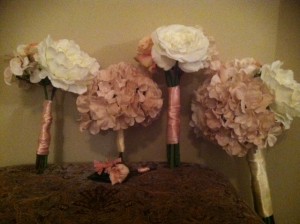 Here are some other really cool projects that I have found and cannot wait to try!
Pinterest really is the most wonderful tool created since "the wheel" if you ask me.  If you have not found this wonderful, virtual online tool, watch this video tutorial on how to find your way around Pinterest.
HAPPY PINNING!